For those who didn't know: I did not know I was pregnant. I found out I was pregnant 30 minutes before Oliver was born.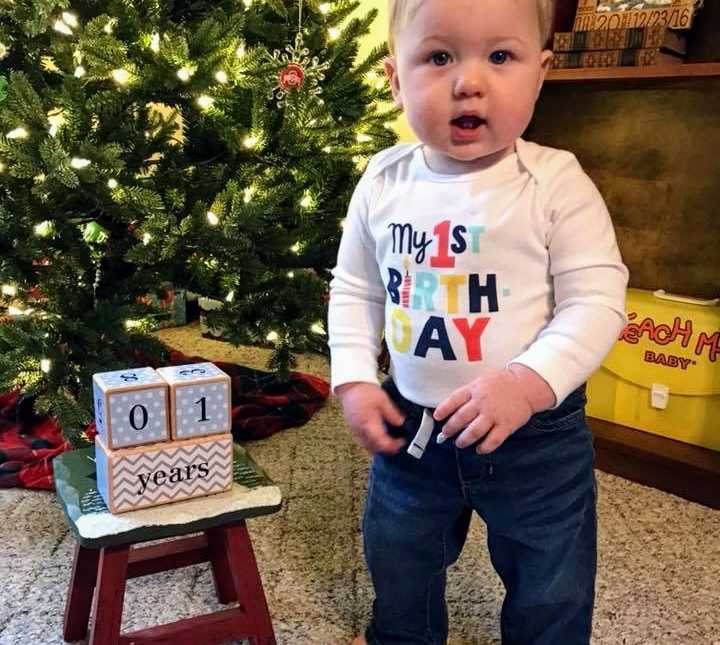 I woke up the morning of December 21, 2016, feeling absolutely normal, not knowing what I was about to go through. Just a couple hours later, I started feeling some minor cramping and brushed it off as nothing. It gradually became a little more painful throughout the day so I figured it was that time of the month for me as I had started bleeding a bit too. I went on with my day as normal and ignored the cramps that seemed to get a little stronger.
That day, I had a busy day of coaching. I coached my high school cheerleaders at a basketball game at the Q in downtown Cleveland and then went straight to my five hours of coaching all star cheer practice after, despite being in pain [labor]. That night, the pain got worse. Ibuprofen and heating pads were not working and I was in too much pain to get any sleep despite being exhausted. I stayed up all night curled up in the fetal position wondering why my cramps were getting so bad… I never usually got cramps nearly that bad before.
The next morning, December 22nd, after my mom woke up, I told her I had some horrible cramps and nothing was helping and that I was up all night in pain. Still just brushing it off as me just being a wimp, I helped my dad move a couch from the basement to the upstairs living room, ignoring what turned out to be some serious contractions. I had no appetite and just hid in my room in pain. My mom came home from work and by then, I was crying in pain and knew something wasn't quite right. These were way more than menstrual cramps. We tried more pain meds which of course did absolutely nothing. My mom made me dinner and I stood in the kitchen crying and screaming between eat bite I took when a 'cramp' would hit. We decided I'd take a pregnancy test just to be sure, and it came back negative.
Since I was so exhausted and just wanted to sleep, we went upstairs to get me comfortable in bed so I could rest. As soon as I laid down and my mom walked out, I started screaming at the top of my lungs and my dad came rushing upstairs to see what was wrong. The 'cramp' passed, and they left my room. A few minutes later, there I was screaming in pain. After hours of realizing it hurt even more when I would lay down, and with the 'cramps' getting more painful and closer together, my mom asked if I wanted to go to the hospital and I refused. I thought for sure they'd just tell me I'm having bad menstrual cramps and to just go home and take ibuprofen. Plus, it was like 11:00 p.m. at this point and I was way too exhausted to leave the house after not sleeping for nearly 48 hours.
Then another 'cramp' hit. I looked at my mom and said, 'We need to go. Something is seriously wrong here,' until the cramp was over, and I then I was fine and said we didn't need to go. And then, another hit just a minute later. I knew we really needed to go right then and there if I wanted to make it to the hospital before something happened to me. I was in so much pain and not knowing what was happening, I thought I was seriously going to die. I threw on sweat pants and got in the car (I had to stop multiple times to get through contractions before actually making it to the car).
That car ride was the WORST car ride and seemed to be the slowest car ride ever. We originally were going to go all the way to Hillcrest near Cleveland (a 40 minute drive), but thankfully my mom decided to go to UH Geauga which was a smaller, closer hospital. I sat in the passenger seat of my dad's tiny little Mustang with one hand pressing on the roof of the car and the other on the window just screaming in pain while my mom somehow remained calm and kept driving. We finally pulled up to the ER and I jumped out of the car, walked through the doors to the check-in counter and screamed as I desperately tried to write my name on the sign-in sheet. The lady at the check in desk asked me what my symptoms were as I was trying my very best to not scream as loud as I could. That ER was very quiet until I walked in and I'm sure I scared everyone else who was there waiting to be taken back.
I sat in the corner away from everyone else screaming as my mom walked through the doors after parking and they immediately took me back, ahead of everyone else as I obviously had something serious going on. They probably had seen plenty of women in labor and knew what was really going on with me. Obviously, I did not.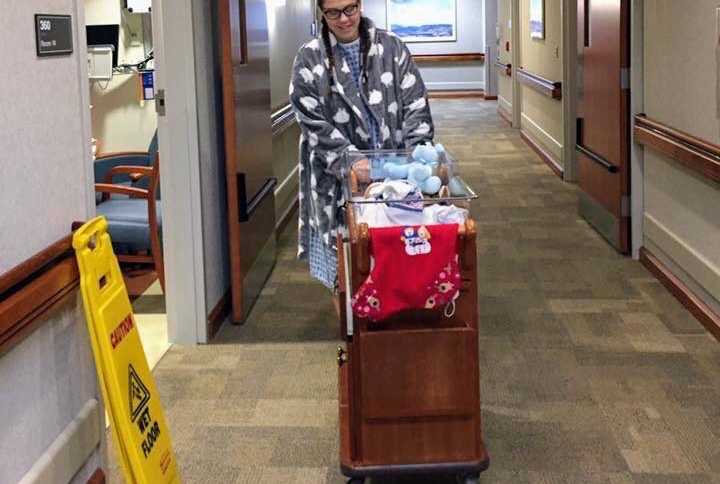 I remember the nurse holding me and helping me walk back to the room as I was going through another 'cramp.' She sat me down on the bed and asked all the basic questions they do when you go to the hospital and took my vitals. My blood pressure was of course through the roof and they decided to do some blood work. They got me started on an IV and gave me morphine for the pain which of course gave me no relief as well as magnesium sulfate to keep me from seizing. At this point, I had symptoms of labor but we had told them I took a pregnancy test and it came back negative, and I obviously didn't look pregnant so there was just no way I was pregnant. The nurse wanted my mom to keep track of my 'cramps' to see how long they lasted and how far apart they were… you know, because they seemed like contractions. Then, my nurse and doctor came back in and said my white blood cell count was high, meaning I had some sort of infection. It seemed like I have kidney stones. The nurse calmed our nerves and told us it seemed more like kidney stones rather than labor, which to us, was good news. We weren't ready for a baby.
The doctor examined my abdomen and found exactly what I had found: he felt a hard lump on one side of my stomach. He told me if it was kidney stones, that I may need emergency surgery to remove it ASAP. So, he sent me for an ultrasound to see what that mass was that he felt. Of course all of us, including the doctor, were expecting to see kidney stones on the ultrasound.
As my hospital bed was wheeled in to the ultrasound room, another 'cramp' hit and the poor ultrasound technician looked so concerned as I laid there screaming in pain. After the 'cramp' was over, she started the ultrasound. She of course is not allowed to say anything to me about what she's seeing. The doctor is the only person who can tell me what they found. So as she's doing the ultrasound, suddenly her jaw drops and she asked, 'Are you pregnant?' And I of course replied with
'NO!'